Basic approach
Abiding by the principles of our Group Vision, the Group is committed to conducting business in an open and fair manner while paying close attention to feedback from customers and local residents. Acting as a member of the local community, the Group proactively collaborates with civil groups as part of its efforts to contribute to community development and environmental conservation.
The Group's railway services are deeply rooted in towns and cities throughout Japan, while its hotels collaborate with local communities to attract tourists, and its real estate development business brings investment to the community. From that point of view, the Group works together with municipalities situated along its railway lines to stimulate regional development. At the same time, the Group tailors its services to address the needs of the local community which is facing an aging society at a rapid rate and makes them more convenient for the elderly people such as applying universal design to make them usable by all people.
Activities of each group company
Invigorating railroad corridor and local communities
Initiatives to attract tourists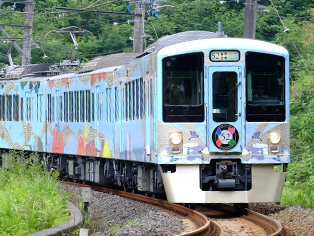 The Group companies started campaigns to attract tourists, and provide regional tourism information in collaboration with various municipalities in an effort to stimulate the economies of the communities they serve. Recognizing that train stations are often the first place that tourists visit, we have been promoting the appeal of the line through efforts such as introducing a new Laview limited express train and refurbishing station buildings.
Specific initiatives
Developing tourist trails in the Hakone area and Shiga areas in collaboration with organizations and other companies' locations to attract inbound tourists.
Seibu Railway Ohmi Railway operates train service allowing cyclists to bring their bicycles on without dismantling or in bike bags.
Seibu Railway starts the new Laview limited express service on the Seibu Ikebukuro Line to provide more comfortable and faster travel.
Seibu Railway operates "Seibu Railway Dining Train : fifty two seats of happiness" along scenic routes between Tokyo and Saitama prefecture.
Seibu Realty Solutions' Seibu Agribusiness operates "Emi Farm" rental farm business.
Ohmi Railway Group promotes Biwaichi project through tie-up with local governments.
Seibu Railway renovated Ikebukuro and Toshimaen stations to coincide with the opening of the Warner Bros. Studio Tour Tokyo.
Implement cycle tourism, including the Seibu Green Cycle Festa.
Building a strong relationship with local communities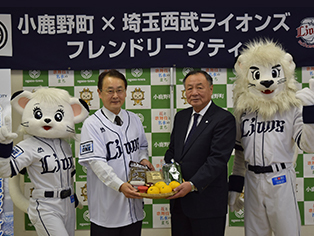 The Group companies make further efforts to build a strong relationship with their local communities. For example, Seibu Railway and Seibu Lions both work to bring dynamism to local areas through their participation in assemblies and conferences as well as collaboration with relevant organizations. Likewise, Prince Hotels supports local producers of food, beverages and handicrafts by selling their goods at the hotels. In addition, each Group company participates in environmental improvement activities such as cleanups conducted by local governments.
Specific initiatives
Seibu Holdings started a comprehensive collaboration with East Japan Railway Company to create new lifestyles and promote regional development.(In cooperation with JR East, a regional and tourism-oriented MaaS called "Kaiyu Karuizawa" was implemented to fulfill tourism use and regional transportation.)
Seibu Railway participated in a summit associating with several municipalities along its railway lines, organizing events and promoting projects related to a wide range of topics from tourism, culture, education, industry to environmental conservation.
Seibu Railway held a festive farmers' market event at Shakujii-koen and Tokorozawa station in Tokyo to promote locally grown produce and food products.
Local specialty products are sold at the TOMONY stores.
Seibu Railway held events for local residents and customers, adopting bottom-up process.
Information about maintenance of trains at train bases and inspection centers is widely disclosed to local residents for the purpose of promoting people's understanding.
Transmit the area's appeal through a promotion in cooperation with three universities around Ekoda (Nihon University, college of art, Musashi University, Musashino Academia Musicae) and local people.
Implemented measures to promote interchange for increasing population in the Hanno Area, where there is growing demand not only for tourism but also for migration.
Seibu Railway, Izuhakone Railway promotes Industry-University Cooperation with neighboring universities, high schools and other educational institutions.
Prince Hotels promotes local producers by selling their goods at hotels, including popular resort areas such as Karuizawa and Manza area.
Seibu Realty Solutions concluded sponsorship agreements with local sports clubs (non-profit organizations) with the aim of revitalizing the region (Shin-Yokohama Prince Pepe sponsors the youth soccer club "Mamedo FC" and Karuizawa Prince Shopping Plaza sponsors the curling club "SC Karuizawa Club").
Seibu Lions concluded an agreement with several cities in Saitama prefecture to promote community development and social welfare through collaborative projects.
Sending former Lions baseball player to baseball classes to local elementary and junior high school students to teach them the knowledge they cultivated during their professional baseball careers and to help them improve their skills.
Izuhakone Railway launched the Sunzu Line Regional Revitalization Council in 2011 to establish a system of cooperation and collaboration among the regions along the Sunzu Line, revitalize the region, strengthen the disaster prevention system, and increase the number of people settling in the region. We are also considering regional revitalization and tourism promotion for the Daiyuzan Line in cooperation with Minami Ashigara City and companies along the line.
Izuhakone Railway Concluded a comprehensive cooperation agreement for regional revitalization with three JA associations along the railway line.
Omi Railway is promoting "Omi Railway Mirai Factory," an initiative to revitalize the railroad business through town meetings with local communities.
Ohmi Taxi transports children to the children's cafeteria, which provides free meals to impoverished children, and to free schools run by Hikone City Social Welfare Council.
Seibu Landscape signed partnership agreement with Kiyose City on an apiculture project for the purpose of providing a place for citizens to learn and experience environmental education program utilizing the characteristics of honeybees.
Prince Waikiki collaborates with Anuenue_School, which aims to pass on Hawaiian culture through primary and high school education, contributing to career development through interaction with employees and work experience.
Seibu Realty Solutions Hosting of events at commercial facilities in collaboration with surrounding local businesses and facilities.
Ensuring full access to transportation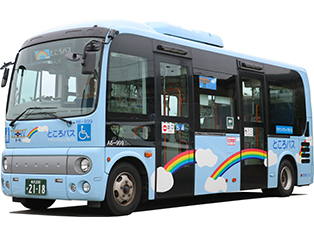 The Group companies, including Seibu Bus and Izuhakone Railway Group, offer community bus services and cooperate in ride sharing programs to ensure that everyone in rural communities has access to public transportation.
Specific initiatives
Seibu Bus operates community bus and share cab services consigned by municipalities along railway lines.
Izuhakone Railway Group collaborates with cities and towns served by railway lines to provide taxi service for school commuting or shared ride, to support the local transportation.
Ohmi Railway Group collaborates with local government to provide shared taxi service, and held an event called "Ohmi Railway Future Factory" to study together with the community about the future of local transportation in the area.
Seibu Realty Solutions invites car- and bicycle-sharing businesses to operate from parking lots on some properties.
As part of the "Eco-Town Creation Project by Smart Mobility in Chichibu City and Yokoze Town" by Seibu Holdings, Chichibu City, and Yokoze Town, the Chichibu tourist information service website "Nottemi-Chichibu" is now in operation.
Creating accessibility through universal design
Making barrier-free at facilities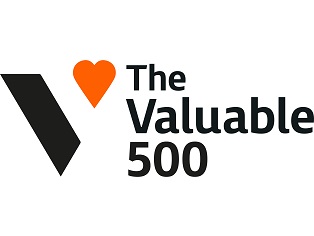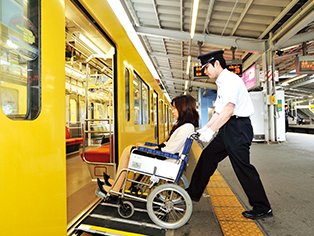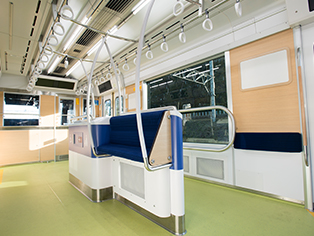 The Seibu Group is a member of The Valuable 500 global initiative to draw out the latent potential of those with disabilities and promote their participation in society.
Specifically, the Group has committed to improving facilities that accommodate diverse customers, providing services that satisfy them, promoting employment of people with disabilities, and creating comfortable work environments.
The Group companies have been applying universal design principles with the goal of making its buildings and facilities fully accessible to everyone, including people with physical disabilities.
Specific initiatives
Seibu Railway increased the number of stations to place of braille blocks with safety line. Installed them at stations with 3,000 or more daily passengers.
Seibu Railway introduced employee app to share the information of passengers who need assistance at all stations.
Seibu Railway Introduced new measures to make trains more accessible, such as designating zones for baby strollers and wheelchairs in new 40000-series commuter trains and installing fully accessible toilets in new Laview model limited express trains.
Seibu Railway develops "Universal Manners Test (Railway)," an original test for railroad operators with Mirairo Inc.
Seibu Railway encourages employees to acquire qualifications such as Universal Manners Test and Heartful Advisors.
Seibu Bus, Izuhakone Railway Group, Ohmi Taxi introduce accessible bus fleets and universal design (UD) taxis and attend universal driver training.
Prince Hotels in Hawaii renovated their buildings with fully accessible guestrooms and other features for people with disabilities.
Seibu Landscape provided all employees with training on basic sign language and procedures for assisting people with disabilities in parks under management.
Seibu Group companies support for those with disabilities as a sponsor of Mirairo ID digitized disability certification app.
Improving services for international tourists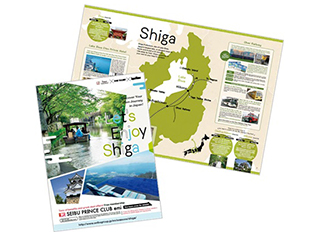 As an operator of transportation services and hotels, the Group works earnestly to assist tourists visiting Japan, which have been growing rapidly in recent years.
Specific initiatives
Provided pamphlets and tour guide information in multiple languages.
Adopted an original tax exemption system for international tourists.
Offering Wi-Fi services for tourists.
Seibu Railway operates tourist information centers in Tokyo's Ikebukuro districts to provide over-the-counter guidance to tourists from overseas.
Seibu Railway provides train service information in English, Chinese (simplified and traditional), and Korean via multilingual website and Seibu Railway Line App, introduced POCKETALK® AI voice translator at all Seibu Railway stations and on limited express trains.
Seibu Railway, Seibu Bus, Seibu Hire and Seibu Realty Solutions introduce multilingual visual translation devices at stations, bus information centers, and shopping facilities.
Pictogram signage and pictogram display of allergenic ingredients at some business locations.
Aging population and low birthrate
Helping child-rearing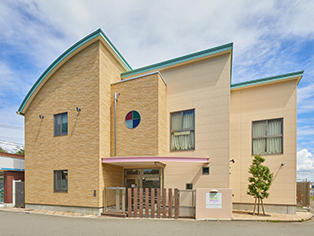 With the number of children in Japan on the decline, the Group makes conscious efforts to support childrearing. In communities along its train lines, Seibu Railway and Ohmi Railway provide nursery school services. The Group also makes it easier to travel with children by equipping trains with stroller zones.
Specific initiatives
Seibu Railway operates the Nicot brand of nursery schools in train station buildings to provide convenient access to childcare services.
Ohmi Railway operates a nursery school near Hikone station.
Seibu Realty Solutions' mixed use facility at Higashi-Nagasaki station was certified by the Tokyo Metropolitan Government as a residential building that supports childrearing.
Opened the shared office "emiffice". Emiffice Nerima has an after-school program to help employees balance work and childcare.
Seibu Railway designated zones for baby strollers and wheelchairs in 40000-series commuter trains, and installed multipurpose toilets fitted with a baby chair and changing table in new Laview model limited express trains to assist passengers with infants and small children.
Seibu Hire offers a 24-hour taxi service for pregnant women and mothers with small children.
Izuhakone Taxi Group provides a specially designated taxi service for pregnant women.
Ohmi Taxi provides a child-friendly taxi service for young family.
Offering learning opportunities for children and families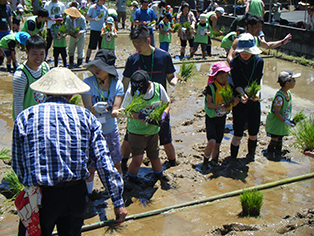 The Group has been providing children with practical and hands-on learning opportunities, such as family sports days and occupational role playing events, through the Group Children's Support Project . The project was launched for the purpose of providing valuable experiences to children and memorable times for families, and will be actively promoted in the future.
Specific initiatives
Dissemination of information on our group's facilities and events on our website and SNS.
Providing year-round outings for children to experience various occupations through role playing at Seibu Group companies.
Prince Hotels Offering free ski lift passes to children under 13.
Seibu Lions established a children's fund (using revenues from selling charity goods) to donate to youth baseball leagues and teams.
Seibu Lions dispatches the team's mascot, Leo and Lina, to nursery schools and kindergartens.
Seibu Lions offers original Seibu Lions baseball caps as gifts to children in elementary schools of Saitama prefecture. Giving soft baseballs specially made for infants to childcares in Saitama prefecture, using a portion of revenues from sales of official baseball cards.
Yokohama Hakkeijima holds classes for children at the Sea Paradise park to educate them about marine ecosystems and environmental issues.
Seibu Landscape provides job experience opportunities and extracurricular classes in collaboration with schools near parks under management.
Prince Hotels opens 11 golf courses nationwide free of charge and holds events that enable children to enjoy golf courses.
Seibu Railway and Prince Hotel providing membership services for children.
Offering support for senior citizens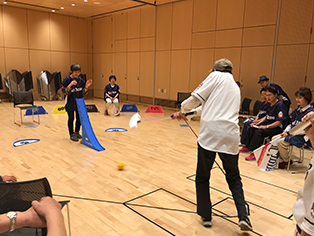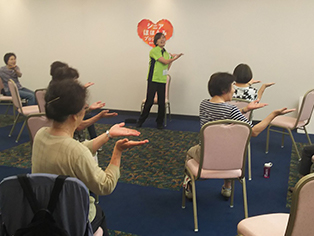 The Group has launched a project for helping senior citizens live happier and more active lives. A wide range of activities are being offered through the project .
Specific initiatives
Seibu Railway, Izuhakone Railway, and Ohmi Railway Organizing walking and hiking events for senior citizens in areas served by railway lines.
Prince Hotels promotes holiday plans tailored to senior citizens, including trips for couples and three-generation family golf trips.
Seibu Railway operates fitness clubs near train stations .(Takadanobaba,Saginomiya,Higashikurume and Tokorozawa stations)
Seibu Bus, Seibu Hire, and Ohmi Railway offer discounted bus and taxi fares to senior citizens who voluntarily give up their driver's license.