1.Schematic diagram of the Seibu Group's strategy, with definitions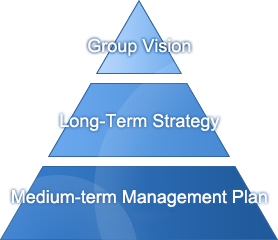 [ Group Vision ] Our management policies and philosophy. Our guidelines for employee behavior. [ Long-Term Strategy ] Basic concept for realizing our Vision. Our strategy and direction for the next ten years. [ Medium-term Management Plan ] 3-year Management Plan based on our Long-Term Strategy, addressing to the market environment and other changes.
2.Long-Term Strategy
Basic Policies
1. We will make the best use of our management resources (people, assets, funds) to maximize the Seibu Group's corporate value.
(1) People: Personnel Strategy We will hire able personnel and leverage their skills with training to maximize the value of our human resources. We will place people where they fit best in the Group to make them more effective and strategically valuable. This will improve employee motivation, allowing us to strengthen our foundation of committed employees. (2) Assets: Asset Strategy We will focus our assets on three tasks: enhancement of the value of existing aseets, portfolio re-building, and concentration on management resources on core businesses. In these ways, we will aim to maximize our corporate value from each viewpoint. (3) Funds: Financial Strategy The pillars of our financial strategy are investment management, fund procurement management, and investor relations (IR) activities. Choosing the ideal balance of rewards for stakeholders (customers, shareholders, lenders, employees, and others) and investment in growth will allow us to improve the Seibu Group's earning power and maintain a sound financial standing.
2. Each business will aim to be the top in its field and support its customers' lives.
By combining diverse services from the entire Seibu Group, we will enrich the range of services we can offer.
Basic Policies of the Three Core Businesses
(1) Urban Transportation and Regional Business (Role: The sources of improvememt of corporate value)
Seibu Railway makes it happen
To be a desired railway line, clarify the image of areas along the line
To encourage the inflow of people to areas served by Seibu Railway, establish an easy way to buy/sell houses
To encourage the inflow of people, develop neighborhoods with different characteristics
To encourage railway use, give people a reason to use the railway for sightseeing
Continue to pursue safety
(2) Hotel and Leisure Business (Role: The motive power to drive corporate value even higher)
Establish a position as the industry's number-one* hotel and leisure group.


*Number one in sales, profitability, customer gratification and global development capabilities
Secure an unrivaled share of the MICE* market


*"MICE" takes its four letters from "meetings" (largely held by companies), "incentive travel" (which covers travel as a reward and for training), "conventions" (usually held by international bodies, associations, and academic groups), and "exhibitions and events" (which cover exhibitions, trade fairs, and others). MICE business tends to attract large numbers of people and generate a great deal of interaction.

Provide travel that fulfills the psychological needs
Disseminate Japanese hospitality around the world
(3) Real Estate Business (Role: The key to improving corporate value)
Realize potential profitability by making effective use of the Group's assets
Based on our asset strategy, expand earning opportunities, exchange old assets for new ones, and make effective use of under-utilized or unutilized land
Make effective use of real estate in core areas to realize potential profitability
Anticipate qualitative and quantitative changes in populations living along our railway lines and develop businesses that raise value along those lines
Strengthen portfolio management