The Seibu Group aims to achieve sustainable and strong growth. To achieve this, under the Seibu Group's Long-Term Strategy, the Group expands the areas and added value in which it can provide a combination of various businesses and services in order to develop as a corporate group that will support customers in all scenarios of their everyday lives.

In this environment, on May 13, 2021, the Group formulated the "FY2021–FY2023 Seibu Group's Medium-term Management Plan," which sets forth the theme of "Looking ahead to our vision for the Group in a post-COVID-19 society, overcoming the impact of COVID-19 and creating a pathway for rapid growth," with a three-point framework comprising "management reforms," "digital management," and "sustainability."

Themes and Key Initiatives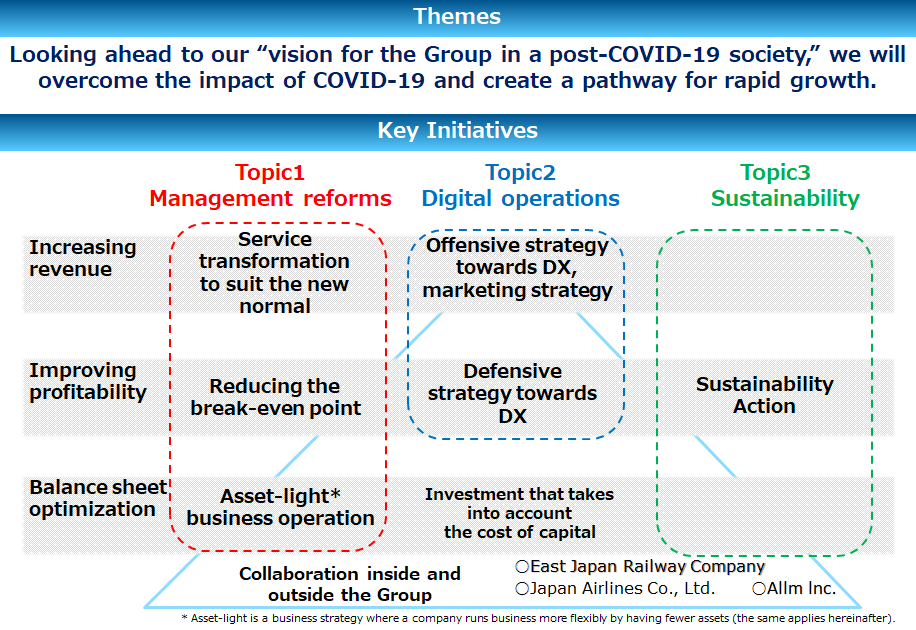 The Medium-Term Management Plan sets out the Group's "vision for the Group in a post-COVID-19 society," as "the best and strongest lifestyle support corporate group," and sets the three-year period as a period of initiatives to achieve that. Envisaging that changes in people's values and activities due to COVID-19 are to be established in a post-COVID-19 society, we have responded to them and changed our business model. In addition, as we envisage that crises with impacts comparable to the COVID-19 pandemic may occur again, we have strengthened the Group's corporate structure to maximize corporate value and shareholder value under any business environment.
Topic 1: Management reforms
We have directly tackled management issues highlighted by the COVID-19 pandemic and resolutely carried out management reforms with no exceptions on the three themes of "asset-light business operation," "reducing the break-even point," and "service transformation to suit the new normal."
Theme 1: Asset-light business operation
We will sort all of our assets and business contents by comprehensively considering the benefits of ownership, scope for development, and scale of cash generated by their sale or securitization based on the following policy. This is needed to transform the business model from the current structure integrating "ownership" with "operation" to an "asset-light" themed model with a view to creating a robust structure in the face of crises that are expected to recur.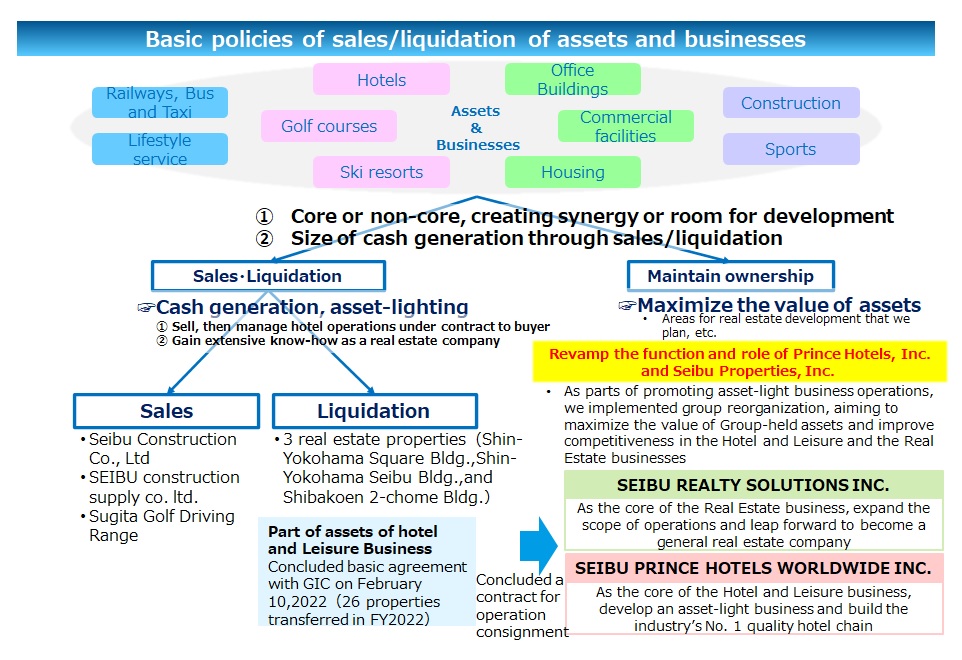 In the fiscal year ending March 31, 2024, we will further promote "asset-light business operation" which has been promoted, to consider effective real estate turnover business by the Group, including private placement funds and private placement REITs.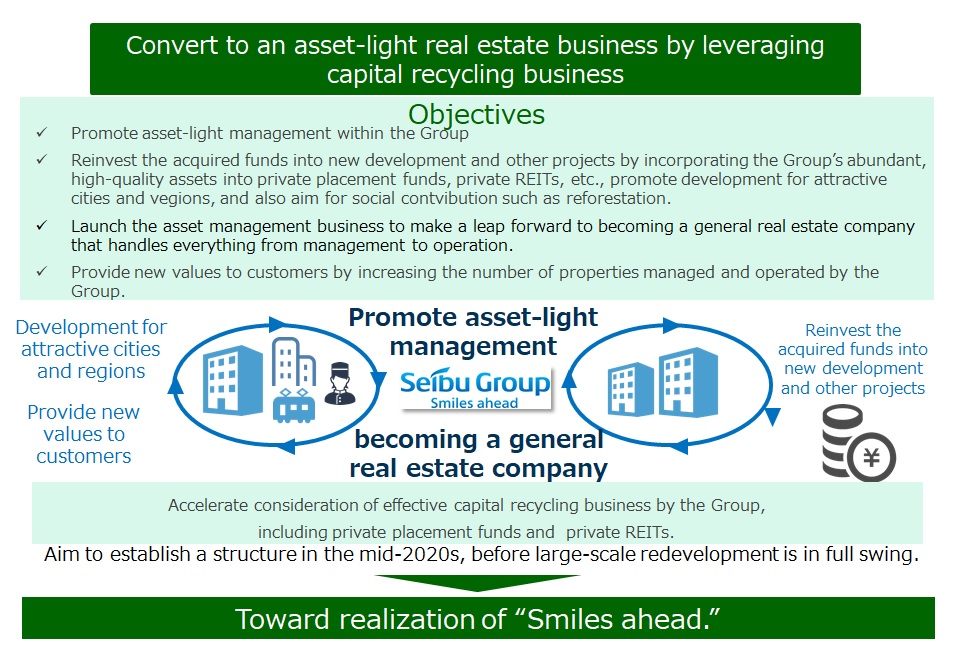 Theme 2: Reducing the break-even point
With regard to the recent economic situation, fixed expenses are on an increasing trend due to higher oil prices originating from the situation in Ukraine. However, we took initiatives until the fiscal year ended March 31, 2023, to permanently reduce fixed expenses, including revisions to timetables in the Urban Transportation and Regional business and controlled personnel in the Hotel and Leisure business. Seibu Process Innovation Inc. was established on December 1, 2022, to provide optimal shared services through flexible work styles and highly specialized human capital, anticipating the "sharing of back office operations," and preparations are underway for the start of operations on June 1, 2023.
Theme 3: Service transformation to suit the new normal
We positioned "Prince Grand Resort Karuizawa" to secure a position as Japan's top "Workation Resort" during the fiscal year ended March 31, 2023. In collaboration with East Japan Railway Company, etc., we improved facilities, services, and products. Moreover, Step Out Co., Ltd. took initiatives to start the barbecue business and open campgrounds in an effort to expand the outdoor business. We will aim to increase "Seibu Group Fans," who are repeat users of our diverse services, by expanding the scope of customers using the Group's services and satisfying them in this new era.
Management reforms of the Urban Transportation and Regional business
Even in the Urban Transportation and Regional business, there was an ongoing reduction in demand for sales from Seibu Railway's commuter passes due to the consolidation of remote working. Advances made in people's changes in values and behavior also led to a considerable review of the frequency of "movement," and the reduced possibility of a complete recovery in sales from commuter passes to pre-COVID levels. Consequently, in addition to the aforementioned initiatives, in the fiscal year ended March 31, 2023, we intended to further reform the profit and loss structure of Urban Transportation and Regional business and promoted "Management reforms of the Urban Transportation and Regional business" based on the pillars of (1) optimizing the organizational and divisional structure, (2) increasing net sales, and (3) reducing fixed expenses.
<Optimizing the organizational and divisional structure>
Seibu Railway Co., Ltd. has determined that it is necessary to enhance its expertise and focus on improving profitability by specializing in its core business of railway operations and value creation functions along its rail lines, and developed its organizational and operational structures as follows.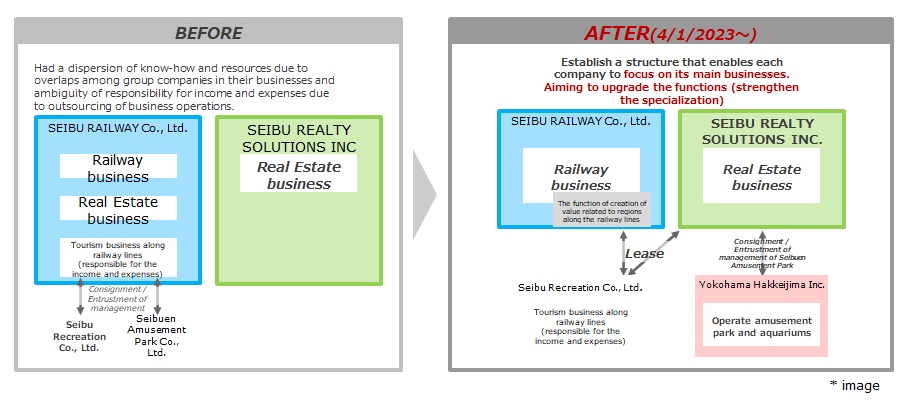 Topic 2: Digital management
For the year ended March 31, 2023, the Company established the DX & Marketing Strategy Department to promote digital management with speed.
We have built the Group Marketing Foundation, which enables linking and use of data from in and outside the Group, centered on the Group's "SEIBU PRINCE CLUB" membership system to realize digital management using approaches that take both offense and defense into account. Using this system will lead to the abovementioned service transformation to suit the new normal and the acquisition of "Seibu Group Fans."
We will also shift management-related operations to a common Group system, helping to realize operation and workstyle reforms and reduce fixed expenses.
Topic 3: Sustainability
The Group continued to "Sustainability Actions" with the 12 key objectives in the four areas of safety, environment, community engagement, and corporate culture, in order to realize a sustainable society. Among these, as our environmental initiatives, we have endorsed the recommendations of the "Task Force on Climate-related Financial Disclosures (TCFD)" and started solar sharing for the first time in the Seibu Group through SEIBU AGRIBUSINESS INC., striving to realize "Green Management" that appropriately recognizes and actively responds to the effects of progressing climate change on both risks and business opportunities.
For the fiscal year ended March 31, 2023, in the environmental category, starting on April 1, 2022, all the power used at "DaiyaGate Ikebukuro," a large-scale office building managed by SEIBU REALTY SOLUTIONS INC., is being covered by the power generated from "Seibu Takeyama Solar Power Station," operated by Seibu Group (power with environmental value), realizing operation with effectively zero CO2 emissions. In addition, we introduced solar power generation at the Karuizawa Prince Shopping Plaza using on-site PPA, and started operations in March 2023. With regard to our response to climate change, since we will continue to be called upon to respond with speed, we have revised and newly established our CO2 emission reduction targets (long-term target: net zero emissions by FY2050, medium-term target: 46% reduction from the FY2018 level by FY2030, and short-term target: 5% reduction from the previous fiscal year's level every fiscal year) to ensure steady progress on eliminating even more CO2 from our business operations.
<Issues for the future>
Based on the aforementioned initiatives under the Medium-term Management Plan, we have developed the system to clarify the role of each company in the Group and maximize corporate value and shareholder value in a post-COVID-19 era.
In combination with the organizational structure, we have formulated a basic concept for the Seibu Group Human Capital Strategy linked to the enhancing the expertise in our main businesses through management reforms. We will aim to become a "professional organization" by improving engagement and creating human capital through the promotion of plans in line with each of the six strategic themes: "Visualization of human capital," "Improvement of employee satisfaction (ES)," "Strengthening management," "Creation and refinement of human capital," "Promoting diversity" and "Management human capital development."
Overall picture of the reorganization
Management KPIs
Towards achieving our "vision for the Group in a post-COVID-19 society," and keeping the "asset-light" model in mind, we set the following "medium- to long-term targets" for capital efficiency and optimized capital structure when we formulated the Medium-term Management Plan in May 2021.
- ROE             At least 10%
- ROA             At least 3.5%
- Capital-to-asset ratio      25 to 30%
- Net interest-bearing debt EBITDA ratio Around 6 times
Going forward, we will work to approach these levels for these important management indicators.
The constant slogan of the Seibu Group has been, and will continue to be, "Smiles Ahead." We aim to create an enriched and sustainable society by creating activity and excitement for customers as a company that grows together with customers and local communities. Moreover, we aim to offer "the best" for our customers, local communities, and the earth's environment, and to support this with "the strongest" protection through totally reliable safety and security, by continuing to drive innovation inspired by the key concept of Big Hairy Audacious Goals (BHAGs) and conducting corporate management for the maximization of corporate value and shareholder value.