The Seibu Group aims to achieve sustainable and strong growth. To achieve this, under the Seibu Group's Long-Term Strategy, the Group expands the areas and added value in which it can provide a combination of various businesses and services in order to develop as a corporate group that will support customers in all scenarios of their everyday lives.
In this environment, the Group formulated a "FY2021-FY2023 Seibu Group's Medium-term Management Plan" for the three-year period ending with FY2023, which sets forth the theme of"Looking ahead to our vision for the Group in a post-COVID-19 society, overcoming the impact of COVID-19 and creating a pathway for rapid growth." with a three-point framework comprising "Management reforms," "Digital management, and" "Sustainability."
Themes and Key Initiatives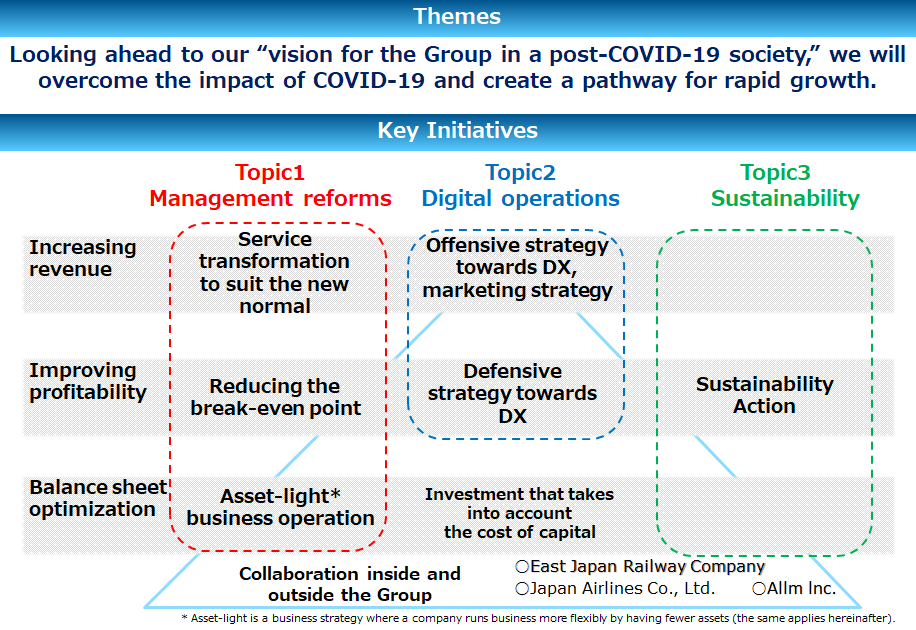 The assumed business environment for the FY2021-FY2023 Seibu Group's Medium-term Management Plan envisages the COVID-19 pandemic being brought under control by FY2022, setting inbound tourism and the Japanese economy on recovery paths for FY2023.
In this environment, the Group envisages that the changes in people's values and activities that occurred during the pandemic will become the norm in a post-COVID-19 society.
Therefore, the Group aims to transform its business model in response to these changes.
Also, as we envisage that crises with impacts comparable to the COVID-19 pandemic may occur again, we will strengthen the Group's corporate structure to maximize corporate value and shareholder value under any business environment.
FY2021-FY2023 Seibu Group's Medium-term Management Plan sets out the Group's "vision for the Group in a post-COVID-19 society," as "the best and strongest lifestyle support corporate group," and sets the three year period as a period of initiatives to achieve that.
The constant slogan of the Seibu Group has been, and will continue to be, "Smiles Ahead." We aim to create an enriched and sustainable society by creating activity and excitement for customers as a company that grows together with customers and local communities.
We aim to offer "the best" for our customers, local communities, and the earth's environment, and to support this with "the strongest" protection through totally reliable safety and security, by continuing to drive innovation inspired by the key concept of Big Haiiy Audacious Goals (BHAGs).
(1) Management reforms
We will directly tackle management issues highlighted by the COVID-19 pandemic and resolutely carry out "management refbrms" with no exceptions on the three themes of "asset-light business operation/* reducing the break-even point," and "service transformation to suit the new normal."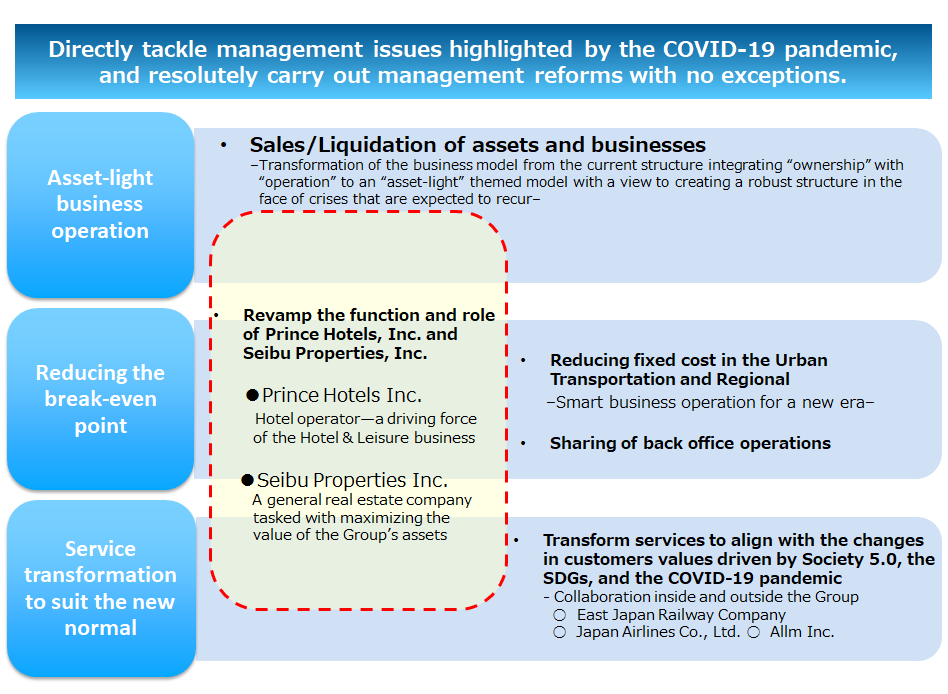 (a)Asset-light business operation
We will transform the business model from the current structure integrating "ownership" with "operation," to an "asset-light" themed model with a view to creating a robust structure in the face of crises that are expected to recur.
We will sort all of our assets and business contents by comprehensively considering the benefits of ownership, scope for development, and scale of cash generated by their sale or liquidation.
For assets that we continue to hold, we will aim to maximize their value by revamping the functions and roles of Prince Hotels, Inc. and Seibu Properties Inc.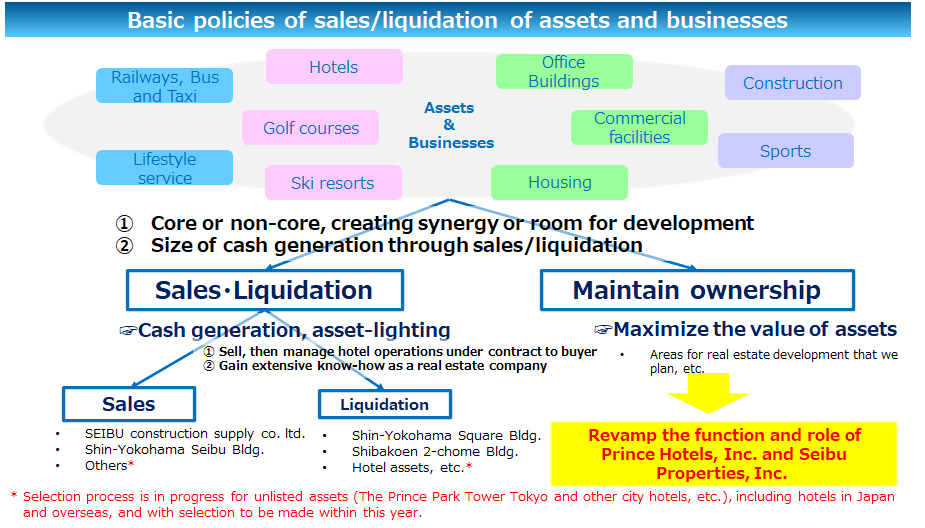 Currently, Prince Hotels, Inc. holds and operates the Company's hotel assets and Seibu Properties Inc. a portion of its real estate properties.
With the recent impact of COVID-19, Prince Hotels, Inc. has recognized the need to rebuild its financial foundation, which has deteriorated due to a sharp drop in earnings, and to respond with urgency to a rapidly changing society, while Seibu Properties Inc. has recognized that it needs to address issues of steadily strengthening earnings power amid expanding business opportunities such as demand related to remote working amid the COVID-19 pandemic, and enhancing its competitiveness as a real estate business operator that contributes to maximizing the value of the Group's assets.
To resolve these management issues, we aim to conduct an internal reorganization of the Group around April 2022, in which we will completely separate the ownership and operation of Prince Hotels Inc.'s hotel assets to clarify the scope of responsibility of "operator" and "asset holder" and increase the competitiveness of each business, and transfer Prince Hotels, Inc's assets and asset management functions to Seibu Properties Inc. Through this reorganization, Prince Hotels, Inc. will be positioned as a hotel "operator," and Seibu Properties Inc. as an "asset holder."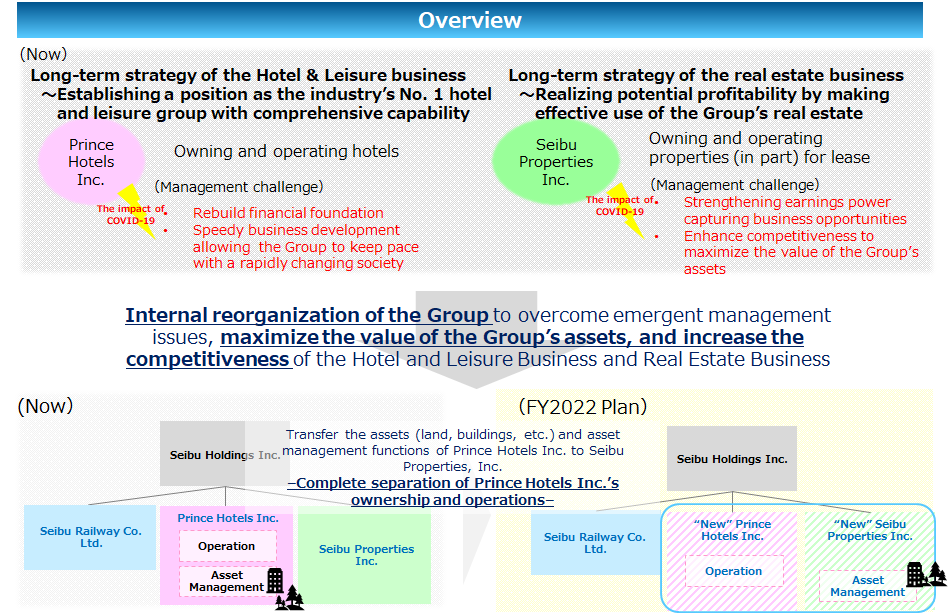 Through this internal Group reorganization, the Hotel and Leisure business aims to develop an asset-light business and build the industry's No.1 quality hotel chain.
The new Prince Hotels, Inc. after the reorganization will provided contracted hotel management services as a hotel operatordriving force for the Hotel & Leisure business.
It will work to increase its performance as an operator so that it can deliver returns above owner's expectations, making use of expertise from StayWell Holdings Pty Ltd., whose business was acquired by the Company in FY2017.
Meanwhile, the Real Estate business will expand its business operations and advance to a general real estate business.
The new Seibu Properties Inc. after the reorganization will be serve as a general real estate company tasked with maximizing the value of the Group's assets.
In this role, it will determine and execute optimal solutions by using diverse methods for strategies to develop effective applications looking beyond current usage for assets that the Group continues to hold, and to carry out initiatives that contribute to increasing the value of areas alongside Seibu Railway lines.
It will also acquire wide-ranging management expertise through liquidation of office buildings and so forth to enable it to examine and execute project finance and so forth, particularly for projects in the Tokyo area, and lead them to success.
We will aim to maximize the value of asset holdings and Group revenue by combining elements such as sale and liquidation of assets and businesses, internal Group reorganization, and expertise acquisition, fully utilizing the respective functions and roles of both Prince Hotels, Inc. and Seibu Properties Inc. and striving to improve competitiveness.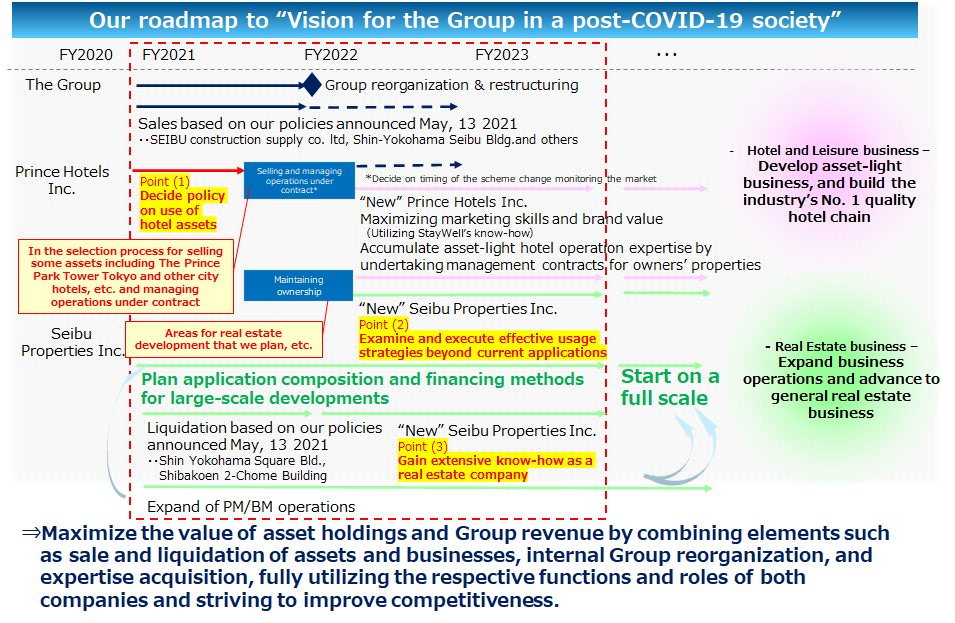 (b)Reducing the break-even point
In the Urban Transportation and Regional business, we will permanently reduce fixed expenses by more than ¥2.0 billion compared with FY2019 by renewing timetables, bus routes, and ticket offices in line with demand, rigorously selecting railcars and buses, etc. for replacement, and making use of eco-friendly railcars, buses, etc.
We are currently formulating plans aimed at realizing smart railway station and driving operations for the next plan onward.
Through these measures, we will reduce the number of staff required, and in the future, incorporate unmanned operations and strive for smart business operation for a new era.
Furthermore, we will continue to standardize and streamline Group operations to reduce fixed expenses.
By around FY2022, we plan to establish a shared company to centralize and manage the Group's back-office operations.
(c)Service transformation to suit the new normal
We will transform the Seibu Group's services by accurately grasping changes in values and behavior that progressed during the COVID-19 pandemic, in addition to Society 5.0 and the SDGs.
We will aim to increase "Seibu Group Fans," who are repeat users of our diverse services, by expanding the scope of customers using the Group's services and satisfying them in this new era.
First, we will transform services for different ways of working.
We will propose new workstyles to customers, such as shared offices and workations, as well as measures for diversifying demand during peak hours for railways and buses.
Next, we have an initiative to realize MICE 2.0.
For banquet halls, we will create demand through "autonomous initiatives," such as self-sponsored events using the Group's content, in addition to the previous "rental of spaces", thereby creating new enjoyment and experiences for our customers.
In areas alongside railway lines, we will realize seamless movement and living by providing MaaS services for the areas alongside railway lines, and work to capture and create demand for local leisure activities through the renewal of MetLife Dome, the Seibuen Amusement Park, and inviting new facilities to the former site of Toshimaen.
We will also fully strengthen the Sports business segment that we established in FY2020.
Through business developed in the sports and entertainment field based on the concepts of "ease" and "enjoyment," we will utilize our assets and expertise to provide living environments offering rich mental and physical stimulation to encourage the creation of new activities for our customers.
Throughout our entire business, we will work to transform services in coordination with companies outside the Group, such as East Japan Railway Company, Japan Airlines Co., Ltd., and Alim Inc.
※The MetLife Dome has been renamed as BELLUNA DOME from March 1, 2022.
(2) Digital management
We will realize digital management using approaches that take both offense and defense into account.
We are currently building the Group Marketing Foundation, which will enable linking and use of data from in and outside the Group, centered on the Group's "SEIBU PRINCE CLUB" membership system. Using this system will lead to the abovementioned service transformation to suit the new normal and the expansion of "Seibu Group Fans."
We will also shift management-related operations to a Groupwide common system, helping to realize operation and workstyle reforms and reduce fixed expenses.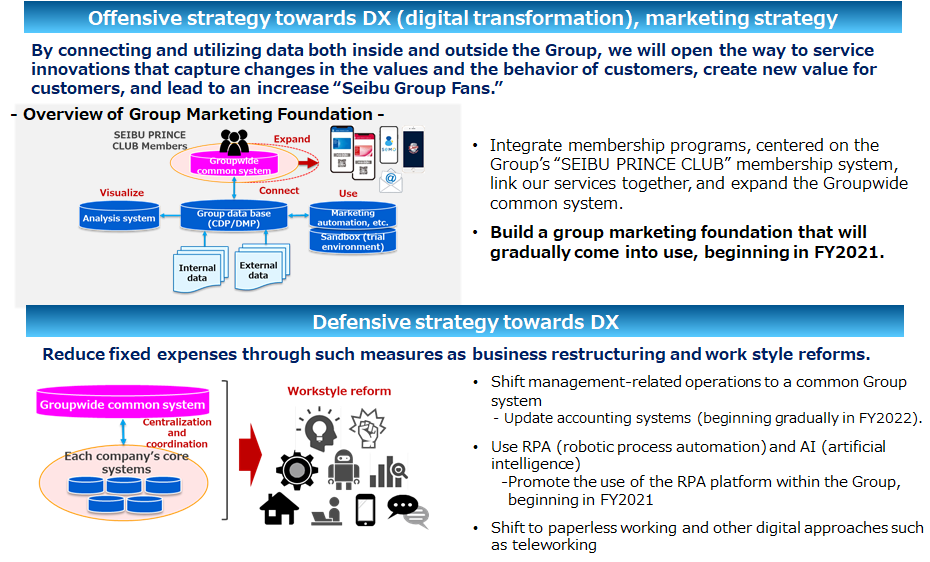 (3)Sustainability
The Group will promote "Sustainability Actions" with the 12 key objectives in the four areas of safety, environment, community engagement, and corporate culture, in order to realize a sustainable society.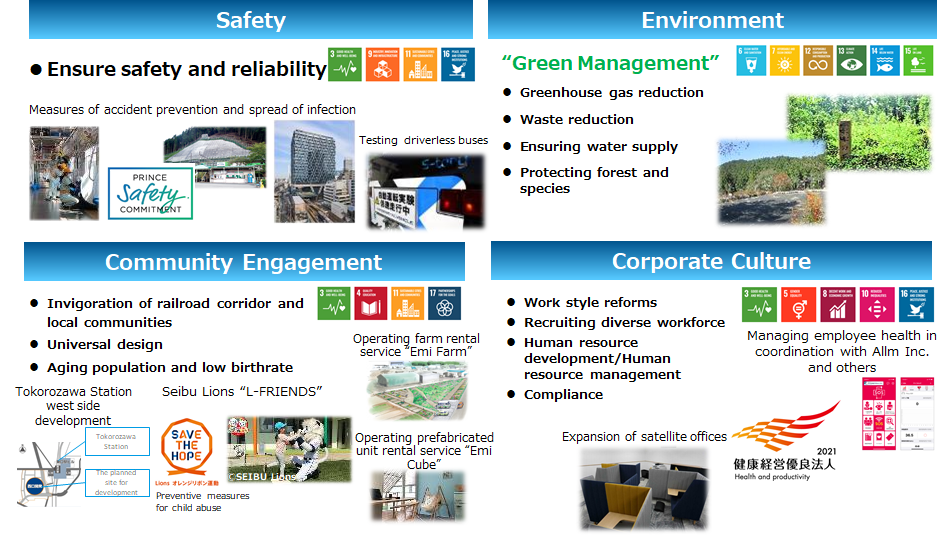 Among these, as climate change advances, we will maintain an appropriate awareness of impacts arising from both the risks and business opportunities and concentrate our efforts on "Green Management."
As part of these efforts, the Group has endorsed the TCFD recommendations, and will actively share information on its responses.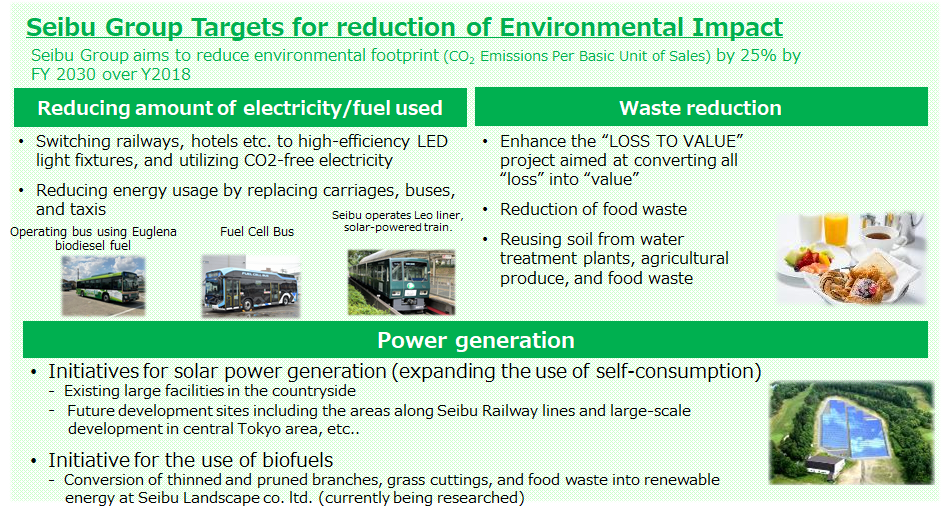 Please refer to this section for more information on our Sustainability Actions.
Management KPIs 
Towards achieving our "vision for the Group in a post-COVID-19 society," and keeping the "asset-light" model in mind, we have set the following "medium- to long-term targets" for capital efficiency and optimized capital structure.
Going forward, we will focus on these management indicators to manage or progress in overcoming the impact of COVID-19 through "management reforms" and so forth.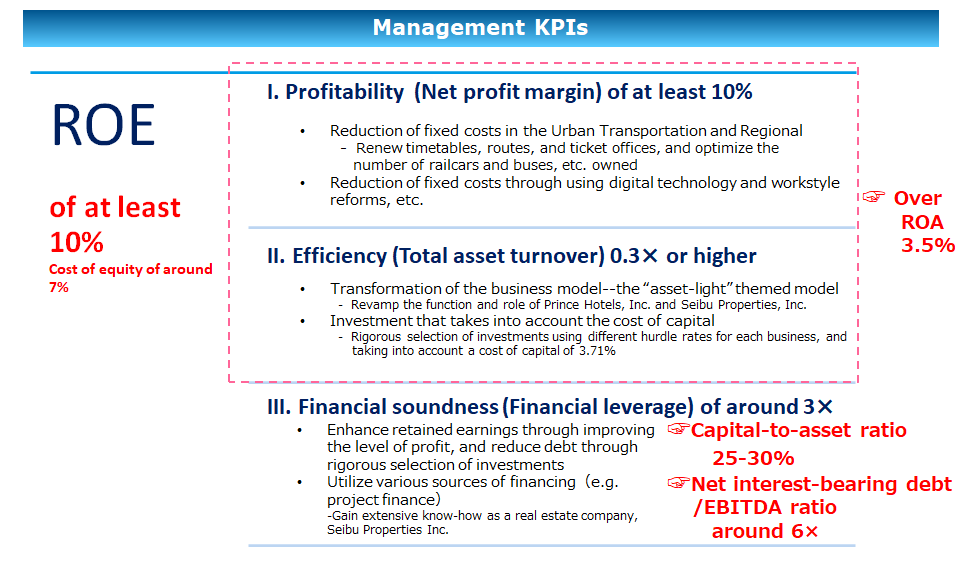 The company will continue to conduct corporate operations aimed at maximizing corporate value and shareholder value.