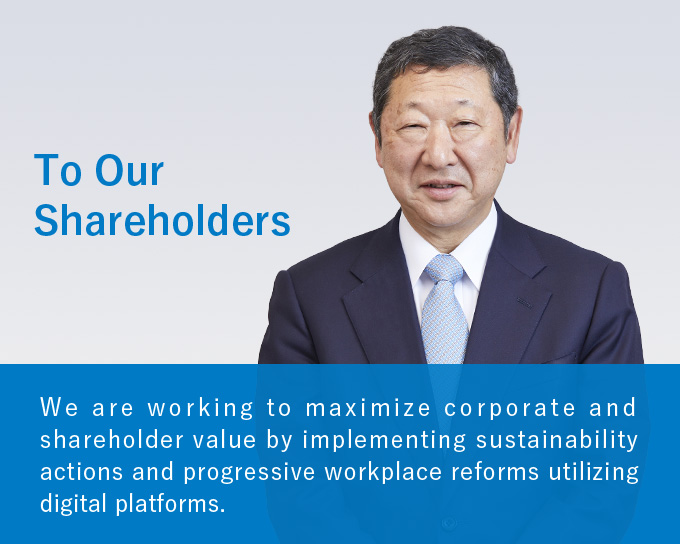 Financial results
First of all, I would like to take this opportunity to thank the Company's shareholders for their consistent support.
In the first six months of fiscal 2020, ending March 31, 2020, the Seibu Group worked to achieve its long-term targets in an effort to realize sustainable and dynamic growth. For that purpose, we have established a three-year medium-term management plan spanning from fiscal 2019 to 2021. According to the basic objectives of this plan—to quickly realize all-new innovations and establish a foundation for long-term growth—the Group carried out various initiatives as key measures for expanding its established businesses and creating new businesses.
Taking the opportunity of the Company's move to a newly constructed office building in Tokyo, management initiated progressive workplace reforms that utilize digital platforms. At the same time, we created a set of group-wide sustainability actions as measures for helping communities solve various challenges related to the United Nations' Sustainability Development Goals. For example, group company Prince Hotels, Inc., launched an action plan for reducing food loss at its hotels.
Highlights of the first half of fiscal 2020 included the launch of a new limited express train service called Laview in March 2019 by the urban transportation and regional business. We also decided to redevelop the Seibuen Amusement Park in partnership with Katana Inc., with redevelopment work scheduled to start in 2021.
Meanwhile, the hotel and leisure business opened three facilities for its Prince Vacation Club hotel membership plan, including the Prince Vacation Club Villa Karuizawa Asama in July 2019. Outside Japan, the Prince Akatoki London opened as the first hotel in the Prince Akatoki brand of international luxury hotels, rebranding the former Arch London hotel operated by AB Hotels Ltd., which was acquired as a group company during the previous fiscal year.
In the real estate business, we proceeded with the second phase of redeveloping the Grand Emio Tokorozawa shopping center in Saitama Prefecture, and completed construction of a multi-purpose building in Tokyo in June 2019. Situated near the Higashi-Nagasaki train station on the Seibu Ikebukuro Line, the building combines condominium, commercial and childcare facilities.
In addition, the Saitama Seibu Lions professional baseball team won the Pacific League championship for the second consecutive year, attracting large numbers of fans and boosting attendance.
Turning to financial results in the first six months of fiscal 2020, both revenue and profit were up compared with the same period of the previous fiscal year. Operating revenue rose by 4.0% to \294.6 billion, reflecting increased revenue per available room (RevPAR)* and food service customers in the hotel business, sales of new condominium units in the real estate business, growth in passenger revenues in the railway business, higher attendance at Saitama Seibu Lions baseball games, and increased RevPAR in the Hawaii business. On the profit front, operating profit amounted to \43.7 billion, up 4.1%, and profit attributable to owners of parent totaled \28.1 billion, an increase of 8.3% year on year.
Shareholder returns
As a basic policy, the Company maintains stable payments of dividends while reinforcing its financial structure by ensuring ample internal reserves, and works to raise corporate value and enhance the operational foundations of the Group as a whole. Moreover, as part of the Seibu Group's long-term strategies, an important financial strategy is achieving an optimal balance between the return of profits to shareholders and investment in long-term growth. On this basis, we are aiming to incrementally increase the consolidated dividend payout ratio to 30% over the medium term in an effort to deliver more profits to shareholders, while also making sure to proactively invest in the Group's sustainable growth going forward. Based on this policy and financial strategy, the Company plans to pay an annual dividend of \30 per share (comprised of an interim dividend and fiscal year-end dividend of \15, respectively) for fiscal 2020, which works out to a consolidated payout ratio of over 20%.
Looking ahead, we are committed to making further progress in achieving sustainable and strong growth, and will continue carrying out reforms throughout the Group in an effort to maximize corporate and shareholder value. As we pursue these endeavors, we ask for the understanding and support of the Company's shareholders.
* RevPAR is calculated by dividing total revenue from accommodation charges by the total number of available guest rooms.