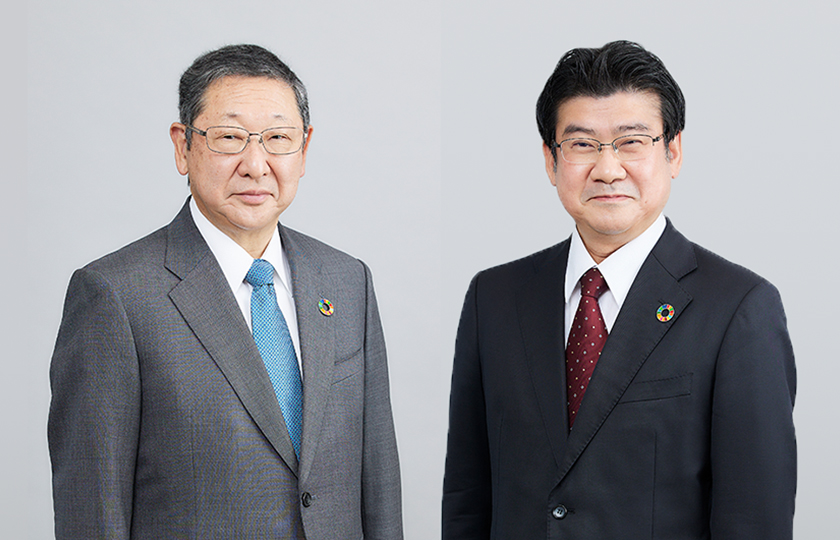 Thank you for your continued support and patronage of the Seibu Group.
The Seibu Group develops businesses that support customer lifestyles in a variety of ways. The Group operates the Seibu Railway Co., Ltd., the core of the Urban Transportation and Regional business, consisting of 12 railway lines in northwest Tokyo and southwest Saitama Prefecture. The Hotel and Leisure business develops the Prince brand, one of the largest hotel chains in Japan. The Group also operates the Real Estate business, managing commercial facilities and rental offices located along Seibu Railway lines and other areas. The Group owns more than 136 million m2 of prime real estate across Japan, including 460,000 m2 in the 23 wards of Tokyo. Ongoing projects to maximize the earning power of these assets include Tokyo Garden Terrace Kioicho, opened in July 2016; DaiyaGate Ikebukuro, opened in April 2019; and the development of the area surrounding Tokorozawa Station.
The Seibu Group has continued to grow steadily while expanding its revenue base through the implementation of various measures since its shares were listed on the Tokyo Stock Exchange First Section on April 23, 2014. Nevertheless, the business environment surrounding the Seibu Group is changing dramatically due to the spread of COVID-19. Against this backdrop, we have been quick to reorganize the entire Group and implement management reforms. The results of this management reform are beginning to steadily appear. Under these circumstances, it has been decided that I will assume the position of Chairman and CEO of Seibu Holdings Inc., while Ryuichiro Nishiyama will assume the position of President and COO, as of April 1, 2023.
The Seibu Group will move forward quickly and powerfully under this two-person representative director structure, as the future still remains uncertain and unstable. Returning to our starting point of "We work to help develop the local communities, as well as society at large, to protect the environment, and to provide safe, pleasant services for memorable experiences. We also proudly and responsibly meet the challenge of creating the kind of new services that will move customers," which is our management philosophy, we will operate our businesses in a manner that properly maintains the infrastructure functions that support daily life based on "safety and security" and makes it possible to deliver "smiles and energy" to our customers and society.
As a corporate group with businesses that directly affect the public, we will continue to fulfill our social mission and responsibilities by carrying out corporate management with "ensuring safety and security" as our highest priority. At the same time, we will firmly recognize the business climate that is expected to change greatly, and respond to the entrustments of all stakeholders, including customers and shareholders, as a continuously evolving corporate Group that is the best and strongest supporter for people's lives.
We respectfully ask for your continued support of the Seibu Group.

Chairman and Representative Director
Chairman and CEO
SEIBU HOLDINGS INC.
Thank you for your continued support and patronage of the Seibu Group.
The Seibu Group is currently implementing the "FY2021-FY2023 Seibu Group's Medium-term Management Plan" amidst the tremendous impact of COVID-19. This Medium-term Management Plan is a major shift in our business structure, intended to help recover from the major damage caused by the COVID-19 outbreak and lay the foundation for sustainable growth in the years to come. We are currently doing our utmost together with all of our executives and employees who have shared in this pain. While there are still issues to be addressed, we are seeing positive signs and the plan is generally progressing well.
It is my responsibility to, first of all, solidly implement this plan, and then work together with all executives and employees to put the Group on track for steady growth toward the next stage, "From Recovery to Growth."Our goal is to achieve the Group Vision and slogan, "Smiles Ahead," which were created when Seibu Holdings was established in 2006. The Seibu Group will contribute to solving various social issues and aim to be a company that can support customers with a high level of hospitality, pursuing their convenience, soothing their hearts, and relaxing their minds so that they can be refreshed and energized for tomorrow.
"People and the pursuit of expertise" are the keywords. We believe that it is important for the entire Seibu Group to further hone their expertise and demonstrate their capabilities, and above all, for each and every employee who support this to interact with customers on a daily basis with a sincere smile, creativity, leadership, and a warm heart, while being conscious of "being useful to both our customers and society." We are dedicated to "Bringing smiles to both our customers and employees" by practicing human capital management in order to achieve "Smiles Ahead." We will also do our utmost to create an attractive workplace and make our company more rewarding and beloved for our employees. Through these efforts, we aim to become a Group that is more highly valued by all stakeholders, including customers and shareholders. Thank you for your continued support.

President and Representative Director
President and COO
SEIBU HOLDINGS INC.