Group Vision
-The Seibu Group's Goal-

Adhering to our founding spirit of Appreciation and Service, the Seibu Group embraces its philosophy, declaration and corporate slogan as the collective corporate vision.
"The Group Philosophy" represents what the group must do and we are uniquely capable of doing.
"The Group Philosophy" signifies our fundamental, unchanging idea which serves as the starting point of all our activities.
"The Group Declaration" is the Seibu Group's important promise to society and our customers.
It also serves as a guide for the conduct of every employee of the group.
The Seibu Group Today and the History of Our Growth
Following the establishment of Seibu Holdings in 2006, the Seibu Group solidified the foundations of its operations by differentiating and concentrating its core businesses. The Group then entered a transitional phase, through which the Group accelerated growth by developing Tokyo Garden Terrace Kioicho and raising the value of the hotel portfolio. Today, all companies of the Seibu Group work together to maximize synergies while operating five business segments: urban transportation and regional, hotel and leisure, real estate, construction, and other businesses.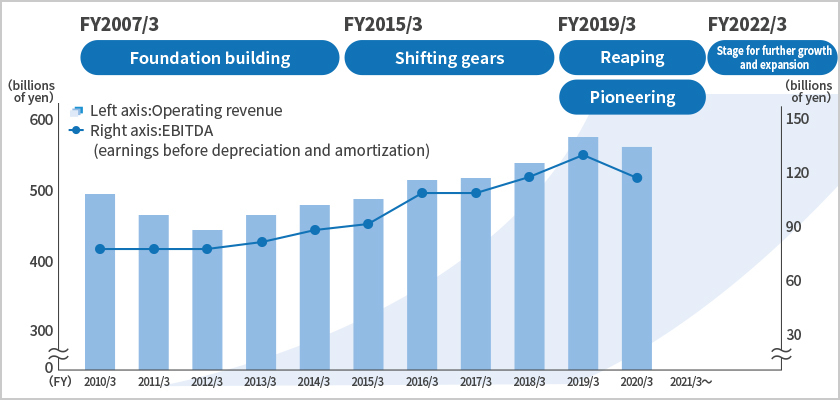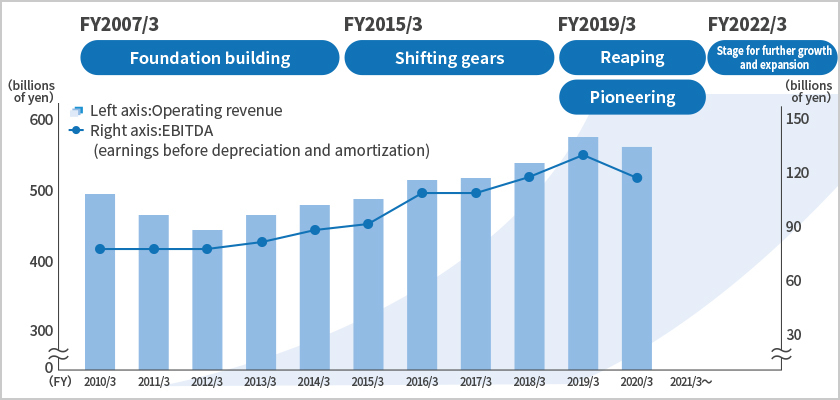 Foundation building
FY2007/3
Focusing on the concept of"concentration on our core businesses," we strengthened the business foundations through such measures as management reforms and Group restructuring, bolstering our financial structure, and raising business efficiency.
With the increase in inbound tourism and the opening of Tokyo Garden Terrace Kioicho setting on a growth trajectory, we seized this opportunity to transition to a more aggressive management approach.
We will expand revenue by realizing returns on our active program of investments to increase value.
Pioneering
While strengthening our existing businesses, we will move ahead to create new business areas in order to prepare for secondary growth and expansion.
Stage for further growth and expansion
FY2022/3
To create and expand new value, we will build a management structure that is resilient to economic conditions or market fluctuations and generate innovation as only the Seibu Group can.