Basic approach
The Group promotes its Group Vision through various initiatives to encourage all employees and managers to reflect on the principles of the vision and put them into practice. It is also taking steps to make its workplaces more comfortable and motivating to work in, while fostering a corporate culture that all stakeholders can trust. Through these efforts, the Group will strive to maximize corporate and shareholder value going forward.
Measures to instill and promote the Group Vision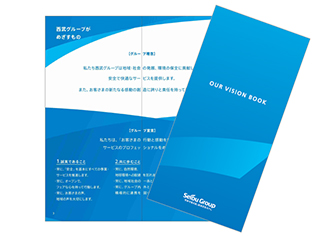 The Group Vision established on March 27, 2006 expresses the Seibu Group's management philosophy as well as the starting point and ultimate goal of all activities of Group employees. We are rolling out measures to instill and promote it in various ways.
Tracking survey on the Group Vision conducted annually among all Group executives and employees to find out how well the Group Vision has penetrated the Group and identify issues
Team Smile Awards recognizing outstanding efforts based on the Group Vision
Smile Factory wherein employees from Seibu Group companies submit measures and ideas to management to create a climate conducive to taking up challenges and promote inter-company collaboration
Good Job Card, a tool for recognizing positive actions taken by subordinates based on the Group Vision and support communication within the workplace
"ism (information for seibu group members)" Group newsletter and web-ism sharing various information related to instilling the Group Vision
Initiatives implemented by the Group companies
Work style reforms
Initiatives to improve operational efficiency
Recruiting diverse workforce
Human resources development and Human resources management
Compliance