Let's Enjoy Shiga! Hikone, Omihachiman and Otsu
Otsu

Touring the Ancient Lakeshore Capital from Otsu!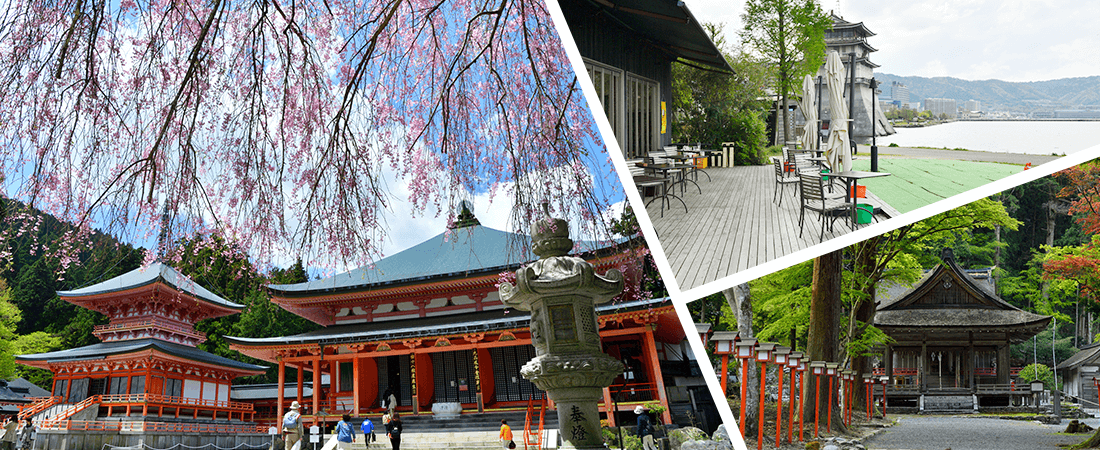 Otsu is just 10 minutes by train from Kyoto Station. The area was once known as Omi Province and is dotted with numerous Shinto shrines and Buddhist temples. Start your exploration of the ancient lakeshore capital from Otsu!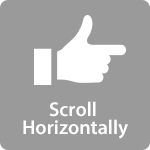 Hieizan Enryakuji Temple
The Enryakuji Temple is situated on 848-meter-tall Mt. Hiei. Founded by the monk Saicho, the temple is the mother of Buddhism in Japan. Boasting some 1,200 years of history, the temple is also registered as a World Heritage site. Visitors can enjoy a variety of experiences here, including participating in zazen meditation and sutra copying as well as dining on traditional "shojin ryori" Buddhist vegetarian cuisine.
The grounds are covered with numerous temple buildings. The Hokke So Ji-in Amida-do is a renowned spot for viewing cherry blossoms in spring.

Visitors can practice Japanese-style zazen meditation.

A reservation required at least three days in advance for Buddhist vegetarian cuisine.
Hiyoshi Taisha Shrine
Located next to Cable Sakamoto Station and situated at the foot of Mt. Hiei, Hiyoshi Taisha is a Shinto shrine built to enshrine Emperor Sujin. The shrine has existed for over 2,000 years and is the head shrine of the more than 3,800 Hiyoshi, Hie, and Sanno shrines in Japan. The shrine also exists to protect Kyoto from misfortune and disaster and, after the Hieizan Enryakuji Temple was founded, came to be a protector of the Tendai sect of Buddhism as well.
The shrine sanctuary is a nationally-designated Important Cultural Property. The shrine is also dedicated to monkeys called "masaru," which are seen as messengers of the gods, and various monkey-themed statues and charms can be found on the shrine grounds.

A historic shrine which has existed for over 2,000 years.
Nagisa WARMS
Four cute cafés stand in a row along the shore of Lake Biwa in Otsu Nagisa Park. Why not enjoy a little delicious food and leisurely take in the view? Nagisa WARMS, one of these cafés, serves dishes made with brown rice and organic Omi vegetables as well as sweets made from vegetables. Inside the shop are displayed pottery and crafts created by artists living in Shiga Prefecture. The café is easily walkable to from the Lake Biwa Otsu Prince Hotel, making it a great place for visitors.
Terrace seating is also available and you can look out over Lake Biwa.

The café interior is relaxed and laid back.

The daily special chiffon cake is made with rice flour and is moist and fluffy. The exquisite texture is addicting.
PICKUP

Biwako Valley

Biwako Valley boasts views so spectacular they will take your breath away. 1,100 meters up the mountain by ropeway, the facility is filled with attractions. Biwako Valley offers outdoor activities, restaurants, shops, and even skiing in winter, but it is most well-known for its stunning view of Lake Biwa from on high. The view from the facility's special seating area will make you forget the everyday and give you a taste of the extraordinary! From here you can have the best view of Lake Biwa all to yourself.
The view of Lake Biwa over the infinity-edge water feature from the No. 1 Terrace in the Biwako Terrace area is a unique stunning vista you can only find here.

Enjoy a relaxing time in the Biwako Terrace Café adjoining the terrace area.

Made with beef from the Takara Farm in Omi. The dough, made with Shiga Prefecture wheat, goes perfectly with the brown rice topping.