Let's Enjoy Shiga! Hikone, Omihachiman and Otsu
Hikone

Touring Shiga's Most Renowned Shrines and One of Japan's Top Castles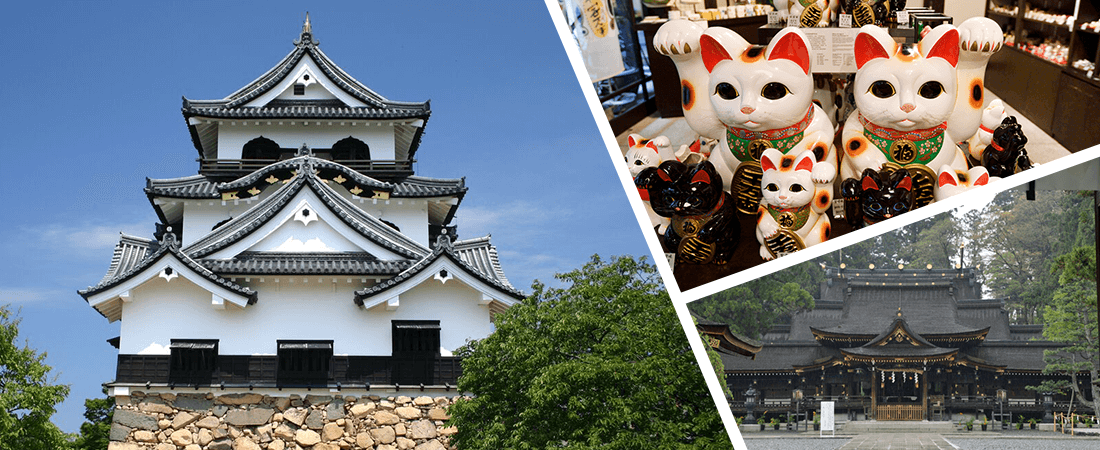 Site of Hikone Castle, one of five castles designated National Treasures in Japan, Hikone is filled with things to see and do. Head out a bit farther to visit Taga Taisha Shrine, one of Shiga Prefecture's premier shrines, or go on a cruise on Lake Biwa!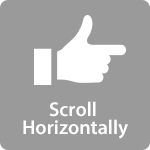 Hikone Castle
Built 410 years ago, Hikone Castle is considered one of the top three castles in Japan with its castle keep registered as a National Treasure. The castle keep houses hidden rooms, battlements for matchlock guns, and arrow slits, and the keep is kept in the same condition it was during its prime. Hikone Castle is connected to the history of the Ii clan, which is featured in the 2017 historical TV series Onna Joshu Naotora broadcast on NHK. A great variety of events are being held in celebration of the 410th anniversary of the castle's construction, including films being screened and diorama exhibitions being held.
The castle keep overlooked from the adjoining Genkyuen Garden is the best place to take pictures from. Don't miss your chance!

Although the keep at Hikone Castle is not particularly tall, the minute detail put into its design and the exquisite balance of black and white make it a truly beautiful sight.

The Tenbin Yagura ("Balance Scale Turret"), situated at the confluence of the paths from the main gate and front gate, makes maximum use of what was then state-of-the-art fortification design during the Warring States Period and constructed so as to prevent enemies from assailing the inner citadel.
Mensho Chakapon
When visiting Shiga one thing you must try is Omi beef, one of Japan's top three "Wagyu" Japanese beef varieties! Chakapon is an udon noodle restaurant located right next to Hikone Castle that serves three varieties of udon inspired by Ii Naomasa, Ii Naotaka, and Ii Naosuke, the first, second, and 13th lords of the ancient Hikone Domain. The Ii Naotaka udon is topped with four slices of fresh and tender raw Omi beef which are cooked instantly when the piping hot udon dashi broth is poured over them just prior to eating. A great place to casually drop in to try Omi beef.
Inspired by Ii Naotaka, the second lord of the ancient Hikone Domain, this extravagant udon noodle bowl is topped with shabu-shabu-style thin slices of Omi beef. The ultrafresh Omi beef is tender and melts in your mouth with the most exquisite flavor.

The restaurant is decorated with a set of red Japanese samurai armor symbolizing the Ii clan.
SEIBU PRINCE CLUB emi Discounts and Offers
Free oolong tea
Yumekyobashi Akarikan
The old town area surrounding Hikone Castle is known as "Yumekyobashi Castle Road." Still retaining the good-old atmosphere, the streets are lined with a variety of shops. It is said that Ii Naotaka, second lord of the ancient Hikone Domain, once escaped danger thanks to the beckoning of a white cat, and today maneki-neko figures can be found everywhere in the area. Yumekyobashi Akarikan offers a wide selection of cute Japanese accessories and knickknacks focusing on cats as well as traditional Hikone candles. Visitors can also enjoy taking a candle-making class.
The shop offers a wide variety of maneki-neko figures and other cat-themed knickknacks you'll want to take home with you.

From cat Darumas to hand-crafted cat decorations, everything in Yumekyobashi Akarikan is cute and adorable.

There is a candle making workshop in the store where you can try your hand at making various types of candles, including candles for hanging lanterns, cartoon character candles, and traditional Japanese-style candles (from ¥1,000).
SEIBU PRINCE CLUB emi Discounts and Offers
Free gift with purchase of ¥2,000 or more
Taga Taisha Shrine
The Taga Taisha Shinto shrine is said to grant worshippers long life, luck in finding love and marriage, and protection from misfortune. It is also a well-known spiritual spot flowing with mystical energy. The dignified main shrine and front shrine have a conspicuously solemn atmosphere. Particularly worthy of note are the Taikobashi Bridge in front of the shrine gate, which was built by the great Shogun Toyotomi Hideyoshi in prayer for the recovery of his mother's health, and the great swaths of ladle-shaped "ema" votive prayer tablets.
The shrine is dedicated to the husband and wife gods Izanagi and Izanami, and many people come to the shrine to pray for luck in finding a good match and in matrimonial harmony. The main shrine building, resembling a great bird with its wings stretched out, brims with a solemn and majestic atmosphere.
Tagaya
Tagaya, located outside the shrine, offers itokiri-mochi ("string-cut rice cakes" filled with sweet bean paste), a popular, local Japanese confection boasting some 700 years of history.
SEIBU PRINCE CLUB emi Discounts and Offers
10% off your bill
PICKUP

Chikubu Island Cruise

Go aboard the Ohmi Marine sightseeing boats and visit Chikubu Island, situated on the north side of Lake Biwa. The island is the location of numerous places of scenic beauty and historic sites, so enjoy an abundance of beautiful scenery.
Ohmi Marine Lake Biwa sightseeing boats

Get on a tour boat and take a cruise of Lake Biwa!
SEIBU PRINCE CLUB emi Discounts and Offers
20% off ticket price